Design 3D Pools & Landscaping with Next-Generation Virtual 3D!
Easy-to-use
Design in 1D & 3D with a fun and easy-to-use software program
Drag-N-Drop 1000's of items,
start with our design templates,
or design from scratch!
3D Pool TemplatesTM shapes
Professional 3D pool plans
and movie files!
Huge Pool Tile MFR library!
New custom water-features!

Create custom ponds with fish!
Make ANY 1D plan into a 3D plan!
Now includes 3D Photo-imaging!
Create any type of terrain!
Add glass/screen enclosures
Add 3D swimmers & sunbathers
Create instant watercolor plans
Create 3D movies & prints!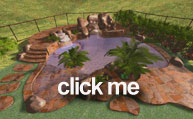 Powerful Features
New 3D Photo-imaging!

Realistic water movement & sound for pools, spas, waterfalls, ponds, fountains and deck-jets
Realistic fire effects for fire-pits, torches, fire-woks and fireplaces
Easy 'slope & grade' (+/-) tool
'Terrain map' for mounds & divots
Adds motion, sound, animation to pools, spas & water-features
Create full-size 3D drawings
Add backyard digital photos as a background with built-in photo-image editor
Adds professional 3D pool items
Create movies & presentations
1000's of new items, shapes and tools for the most design features for your pool & landscape design program!
Add instant effects to your plans to create full watercolor plans, pencil or ink sketches and more!
Combines with new Landscape
software for the ultimate in
complete backyard design!
NEW 4K Ultra-High Definition video!