NOW CREATE ALL YOUR POOL BIDS IN JUST MINUTES!

Creates Quick & Accurate Estimates, Proposals, Contracts
and Job Schedule from your Design or Takeoff Any Pool Plan!

<![if !vml]>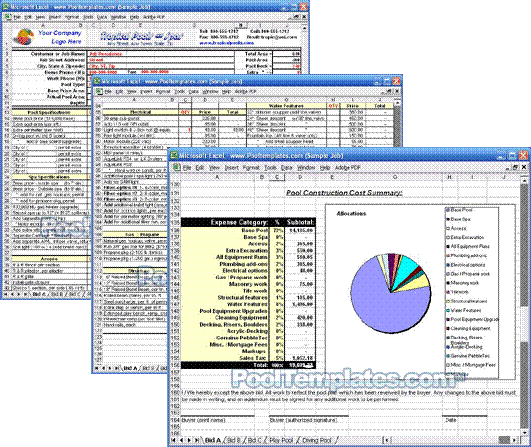 <![endif]>

The Pool EstimatorTM will give you:

Cost of any Inground Pool/Spa Project


Excavation, Sitework and Access


Electrical, Plumbing & Gas work


Masonry, Decking & Tile work


Pool Equipment & Accessories


Lighting, Options, Water-features & more!


Internal Area, Average Depth, Pool Gallons, etc.


NEW Construction Job Schedule!


Then, you can quickly...



Print Proposals/Estimates & Contracts instantly



Track job costs for ALL job phases!



Create Reports, Graphs, Job Schedule and more!



Also, import/export into many programs:
(Word, Access, PowerPoint, and QuickBooks & others!)
New Features ...



EASY-TO-USE ExcelTM Spreadsheet (no program to learn)


Just type in your quantities and it does the math!


Create all your Proposals, bids, Contracts & more!


Create multiple bids or spreadsheets per customer!


Does 'take-offs' from any pool plan in just 5-7 minutes!
works independently (or copy/paste from pool drawing)


Customize with your own prices & item descriptions


Give instant on-site Design, Proposals & Contract!


Print, fax, email from anywhere with a laptop!


Auto-Calculates ...



Area, Perimeter, Gallons, Internal Area helpful for sizing
pool equipment, chlorinators, ozonators, chemicals, etc.


Running totals instantly as you create or edit bid.


Price changes, taxes, subtotals, discounts or markups


Itemize job costs & job phase expenses (and graphs)

Saves you time & money ...



Uses plain paper (NO expensive quote forms to buy)


Scan in your forms or contracts and auto-fill them!


Import or Export to Word, or any MSOffice application


Convert your bids to PDF with drawing attached, and email
*with 'one-click' using your Adobe AcrobatTM


Fax or Email your bids instantly right from the desktop
*with 'one-click' using your fax or email software


Password protect your forms and prices for salespeople


Works with ALL versions of MS ExcelTM

Now Create Accurate Pool Bids Instantly...

Also Print, Fax, or Email your Proposals from
your PC or to the web, PDA, even a handheld!


The ESI Pool Estimator is available

only in our Pro-Suite!

Fast, Accurate Pool Bids in just a few clicks...

Create Estimates and
takeoffs from ANY pool plan!



• Easy-To-Use (ExcelTM Sheet)
• Both Sales and Cost prices!
• Create Proposals & Bids
• Instantly creates the Contract

• Itemized Cost Breakdown
• Instant Markup/Discounts
• Store Job Information
• Pool Project Data & Criteria
• Job Notes & instructions





Create Pool Estimates in just minutes! Pool Estimator does all the calcs & pricing for you!



• Auto-creates Custom Forms:
Proposals, Bids & Contracts!

• Uses plain paper (any size)
-no more expensive forms!

• Print multiple estimates
• Track & graph project cost
• Fax or email bid instantly*
• Exports to other programs




Use with your PRO-SUITETM
or independently!


"The Pool EstimatorTM is the answer
to my 'time-consuming' bid work"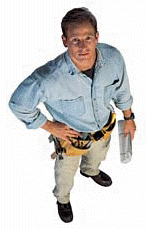 Used by top pool builders and designers