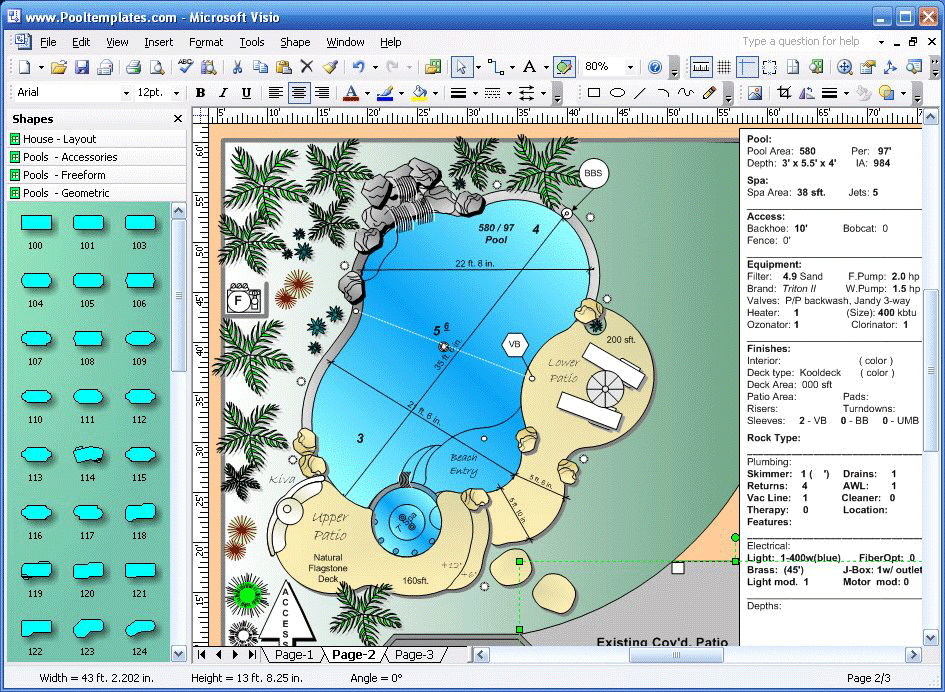 Our New PRO-SUITE has the easiest-to-use and most powerful interface with all the tools you need for your Pool Design & Construction Business!
Easily 'Drag-N-Drop' from Hundreds of Professionally Scaled and Customizable Shapes:
(Pools, Spas, Equipment, Water-features, Landscaping, Hardscapes, Maps, Specs and More!)


Or Design Your Own Shapes and save them!

No CAD or Design Experience required!
Design & Draw any type of plan with Visio's powerful drawing tools!

Draw in any scale and Convert your plans, hand-drawings, or faxes (to/from) ANY Scale!

(Built-in Planimeter) Instantly Measure AREA & PERIMETER any shape with one click!

Add Decking or Coping to shapes instantly!

Create Pool Layouts with radiuses and pin marks!

Instantly Calculates gallons, I.A, and more!

Also Create Bids & Estimates of the entire Pool project in just minutes!

Also includes (80) award-winning pool plans, and Training CD to get you started in minutes!



---

Copyright © 2013 PoolTemplates.com - ESI Corporation (800-200-4670)